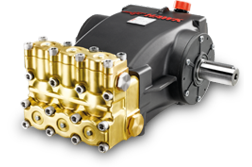 Company
HISTORY

Leuco S.p.A. was established in 1979 in Reggio Emilia, one of Italy's premier industrial sectors, which is well known for its skilled labour force and high number of machinery and agribusiness equipment manufacturing plants. Moreover, Reggio Emilia is internationally recognized as the heartland for the manufacture of top-quality, high-pressure pumps used in hot and cold-water pressure washers and other high-pressure cleaning equipment.
Celebrating our 30th anniversary in 2009: for 30 years, Leuco S.p.A. has been a leader in the design of industrial, heavy-duty, multi-plunger pumps, manufacturing high-pressure pumps and accessories under the widely recognized HAWK label with a product range offering of over 70 models sold around the world. HAWK pumps and accessories are used in a variety of applications: pressure washers (hot and cold water) to clean motor vehicles, agricultural and gardening machinery, earth-moving machinery, industrial machinery, boats, aircrafts. Cleaning and sanitization in the food industry, chemical industry, communities (schools, hospitals), farming (byres, stables, chicken runs, silos...). Cleaning of tanks: industrial and food tanks, tankers, rubbish skips. Sandblasting of surfaces, building façades and walls; cleaning of monuments, cleaning and maintenance of ship hulls. Paint removal (paint-stripping) from buildings, fencing, ships. Fixed installations, equipment and fixtures, car wash tunnels, drive-through wash systems, self-service car wash bays. Other applications such as fog and misting systems for residential, commercial, industrial and agriculture applications, fire-fighting systems, maintenance and cleaning of drains and sewers, water pipelines and many more...
In 2000, the Quality System of Leuco S.p.A. was certified in compliance with UNI EN ISO 9001 standards.
In 2004, Leuco S.p.A. joined the Group KÄRCHER, the world's largest cleaning equipment manufacturer. This has given the company additional impetus to design and develop innovative products to satisfy the needs of the world market.

PRODUCT RANGE AND TOP QUALITY

Leuco S.p.A. offers a broad selection of premier, heavy-duty, high-pressure pumps at competitive prices. Every component of the world-class HAWK pumps are engineered, crafted and tested to exceed the rigorous demands of the cleaning industry. HAWK products are renown worldwide for the highest in quality, efficiency and reliability.

PROMPT DELIVERY

As a global supplier to OEM's distributors, Leuco S.p.A. is focused on meeting the specific needs of our customers. Thanks to our factory capacity, flexibility and efficiency, we continue to offer world-class service and delivery.

CUSTOMER SERVICE

Our Sales and Technical staff have decades of experience in addressing and meeting the needs of our customers. We pride ourselves in a customer-first attitude throughout the company. We recognize that our commitment to you will translate into our long-term success.