Hydraulic Motopumps Units

Series
Hawk motor pumps are superbly made high-pressure pumps designed and crafted with professional skill and care by the expert workers of the Reggio Emilia company. Hawk is a leading brand in the manufacture of high-pressure pumps and accessories. The distinguishing feature of motor pumps is that they can operate at a pressure of up to 100 bar and a water temperature of up to 65° (149 F). These motor pumps are particularly versatile, and can also be installed in systems for washing cars, motorbikes and other vehicles. Leuco produces only top-quality items, thanks to the materials selected and the experience acquired in over 35 years in business. Hawk brand products are popular all over the world, because customers can rest assured that Hawk components come together to create products able to satisfy any need, guaranteeing lasting efficacy and efficiency.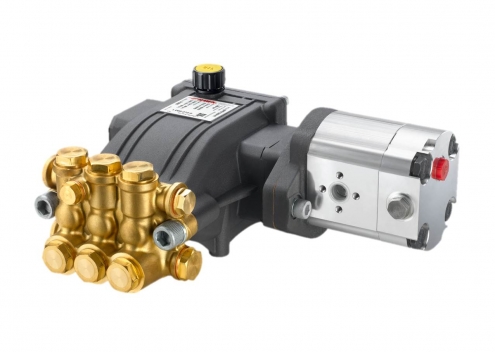 TECHNICAL CHARACTERISTICS
---
| | | |
| --- | --- | --- |
| Weight | Kg | 11 |
| Oil capacity | lt. | 0.4 |
| Inlet | G | 1/2'' |
| Outlet | G | 3/8'' |
Find out about all the models in the series

Hydraulic Motopumps Units

.
Part. No.
CODE
FLOW RATE
MAX PRESSURE
RPM
MAX POWER
TEMPERATURE
PUMP
L/MIN
US GPM
BAR
PSI
HP
KW
°C
°F
1.905-829.0
15
4
150
2200
1450
5.8
4.3
65
150
NHD
1.905-830.0
15
4
200
3000
7.7
5.7
65
150
NHD